Regression?
October 19th, 2011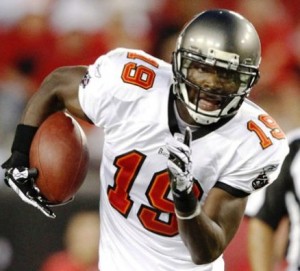 A main reason the Bucs offense was solid last year and a key element in Josh Freeman becoming a top-flight NFL quarterback was the play of wide receiver Mike Williams.
The way the rookie out of Syracuse played, it appeared Williams was about to be a superstar.
That hasn't happened this year as Williams numbers have been sluggish. This, in turn has led to Freeman struggling as well. Even Williams last week described his play as "terrible."
Joe's good friend, "The Commish," Justin Pawlowski of WDAE-AM 620, who no longer has a sometimes Saturday show but has a regular every-Saturday show heard now through the fog of hungover Saturday mornings, wonders aloud on his blog if Williams is indeed regressing.
Williams has just 25 receptions for just under 250 yards and 1 touchdown this season. When you compare those numbers to the first 6 games he ever played in the NFL last season, when he tallied 28 receptions for 365 yards and 3 touchdowns, you do become concerned about a regression. The good news is with as good a year as Williams had last season, he only had more than 100 yards receiving in a game once. He's just a couple big games off his pace from last season, so maybe it isn't panic time yet on Williams.
Joe has heard in some circles that the asinine lockout and the lack of OTAs has hurt Williams in his ability to pick up different coverages that he is seeing. This makes sense. Defensive coordinators had little to do during the asinine lockout other than to watch tape. Surely they developed exotic coverages to try to take Williams out of his game, and thus far it has worked.
If lack of OTAs is the reason for Williams' struggles, the longer the season goes, the better Williams should get. And he did show signs of breaking out in the win over the Saints.