"Financial Incentives" For Playing In England
October 19th, 2011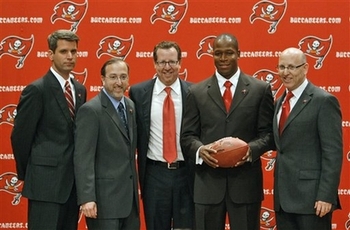 While some fans are giddy about the Bucs playing a" home" game in London on Sunday, therefore avoiding a local TV blackout, others are bitter at the loss of the treasured home game experience. And there are plenty of businesses around Tampa that are hurt by the lost game.
Fans have heard various reasons from Bucs officials why playing in London is a great idea for the team, but one reason wasn't among the Bucs' public position. That would be that it's a good deal financially.
Tampa Tribune beat writer eye-RAH! Kaufman brought that to light today. Kaufman talked to Roger Goodell, who told Kaufman the NFL makes it attractive to take a home game to England. 
Goodell acknowledged the league offers "financial incentives" for clubs willing to switch a home game overseas.
Now maybe the Bucs really don't care about the "financial incentives" related to a home game in England. Heck, Mark Dominik told Sky Sports yesterday that the London experience is excellent Super Bowl preparation and the Bucs jumped at the chance.
"I think Wembley absolutely epitomises all of those things that you want to get ready for when you go play a Super Bowl," he said.

"When the opportunity came up that we could go back to Wembley we quickly grabbed it and said yes.
But Joe's not naive. The NFL is all about money. The league is only in England to make more money, and it's a safe bet to assume the Bucs are there for the same reason.