"I Don't Understand Football Anymore"
October 5th, 2011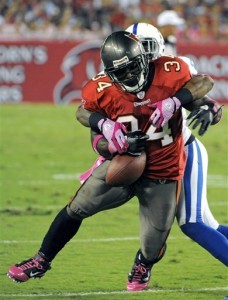 Sure the Bucs were better than the Colts, but the Bucs also got a couple of big breaks Monday.
Josh Freeman tossed a nearly identical bad pass in the endzone to the one that got intercepted against the Falcons, but this time against Indianapolis it was dropped. And the other was the non-fumble call on Earnest Graham in the second quarter. Replays showed Graham caught the ball, made a football move and was stripped. But the pass was ruled incomplete.
Chucky saw the replay and of the non-fumble-call said, "I don't understand football anymore" during the Monday Night Football broadcast,
What Joe understands is that Graham has a fumbling problem that Joe prays is quickly rectified. Graham also coughed up the ball against Minnesota and on opening day, both at critical times.
As the season moves on, Joe expects to see more of Blount and Kregg Lumpkin eating Graham's third down appearances, regardless.