"He's Like A Beloved Son"
October 5th, 2011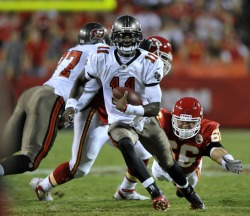 The love connection between 49ers coach Jim Harbaugh and Bucs quarterback Josh Johnson already is heating up over on the left coast as San Francisco prepares to welcome the Bucs in a clash of 3-1 teams Sunday.
Soon these guys are going to need a room. Here's some of the latest from the San Francisco Chronicle.
"Knowing the competitor that Josh is, we'll say 'hi' before the game, give each other a big hug … then he'll walk away and try to gouge our eyes out," Harbaugh said Tuesday during his weekly appearance on KNBR. "He's like a beloved son. And I hope he doesn't beat us. We'll be trying gouge his eyes out, too."
Considering the quality of backup quarterbacks around the NFL, the Bucs seem to have something pretty solid in Johnson, who will be a free agent after the season.
If the Bucs really want him back, it might take a pretty sizable check.