How Good Is The Bucs' Offensive Line?
October 5th, 2011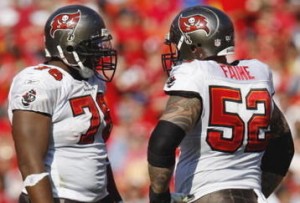 Bucs fans have now seen their high-priced, veteran offensive line win most battles in the trenches for the last 10 quarters.
Josh Freeman has time to throw and, now that Greg Olson has decided its wise to pound LeGarrette Blount, the running game is dangerous and punishing.
So how good are these hogs? Former Bucs QB Shaun King says they're an elite unit, so he told his audience on The King David Show on WQYK-AM 1010 yesterday.
"Tampa has a top 5 offensive line," King said. "If you're not impressed with Donald Penn's performance against Dwight Freeney and Robert Mathis, two elite defensive ends, then you should go watch that tape again. If you think those guys didn't dominate the last  quarter and a half of that game …"
Part of King's point was to emphasize that he was calling the O-line top shelf even while it struggled mightily during the preseason and was reminding fans that unit was the last thing on the Bucs they needed to worry about.
Frankly, Joe wasn't in that camp. Joe trembled through preseason watching Ted Larsen, James Lee and, at times, Jeff Faine. Plus the rest of the crew, outside of Jeremy Zuttah, was hardly showing their best.
But now the O-line is blowing open holes. Joe isn't that impressed with Jeremy Trueblood's pass blocking, but the O-line is playing with massive confidence and Joe can only imagine they'd look even better if Josh Freeman was performing like he did in 2010.