Greg Olson Doesn't Fully Trust Josh Freeman
October 26th, 2011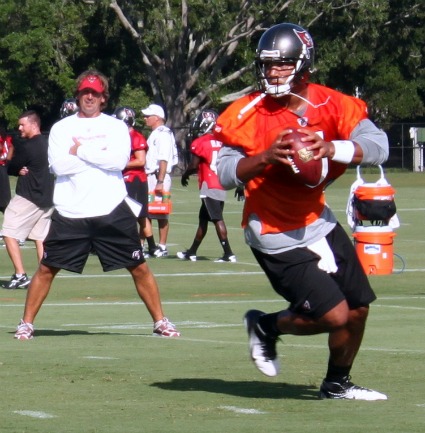 As can be read in the comments of the many posts Joe has written since the final gun sounded Sunday in London, Bucs fans are aghast as to what has happened to the Bucs' passing game.
One of the main complaints is that the Josh Freeman rarely takes shots downfield, or in the words of former Bucs quarterback turned radio personality Shaun King, the Bucs passing attack has turned into an option-offense throwing the ball to the fullback.
Bucs beat writer Stephen Holder of the St. Petersburg Times suggests something a bit deeper if not darker. He believes Bucs offensive coordinator Greg Olson won't let Freeman wing the ball downfield because he doesn't trust Freeman to be able to make the plays.
For those fans who often ask why offensive coordinator Greg Olson doesn't dial up more deep shots and take the reigns off Freeman, I think the answer is right in front of you. Olson doesn't have complete trust in Freeman because he continues to make ill-advised throws. The good news? He's just 23 and has been a starter for less than two years, so none of this has to define Freeman.
Wow. It's just stunning to Joe how far Freeman has fallen in just a few months. He now leads the NFL in interceptions — more than Rex Grossman!
This simply is a chilling statistic.