Where Was John Abraham?
September 25th, 2011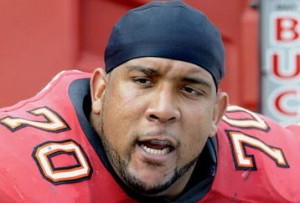 After consecutive games facing Kyle Vanden Bosch, Jared Allen and John Abraham, Donald Penn still has Joe's vote for the Pro Bowl.
Penn said today's effort against the Falcons and Abraham was his best of the season. And Penn gave some credit to Josh Freeman and Jeremy Zuttah.
"I didn't give up a sack. It seems like in the other two [games] I gave up a sack. As a lineman, if you give up one sack, it really, really crushes your whole game," Penn said. "You could have a perfect game and that one sack stands out.

"I'm just working, man, working to get better. Josh Freeman's helping me out a lot. You know, stepping up, moving around the pocket making me look good. Jeremy Zuttah helped me out a lot. Anytime Abraham peeked inside he was there. Then I won my one-on-one battles. You know, he got close a couple of times; he's a great athlete, man. I just got lucky. Hopefully I can keep it going."
For Joe, the offensive line has earned its fat paychecks over the past six quarters.