Adrian Clayborn Hands Matty Ice His Calling Card
September 25th, 2011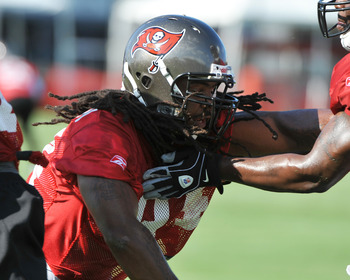 Joe was geeked when the Bucs drafted Adrian Clayborn in the first round in this spring's draft. Sooner or later, Joe knew Clayborn would make a major impact.
That came today. With the Falcons deep in their own territory late in the first half, Matty Ice went back to pass and Joe believes Ryan will well remember what happened to him for years to come.
Clayborn bolted through the line, Dixie Chicks left tackle Sam Baker tried to lure Clayborn outside but instead, Clayborn went inside.
"My instincts took over," Clayborn later said.
So did his physical tools.
Clayborn simply crushed Ryan. Matty Ice was parallel to the ground Clayborn hit him so hard. But Clayborn not only crushed him, he literally ragdolled Matty Ice to the ground, causing a fumble which led to a Bucs field goal.
It was Clayborn's first sack of his young NFL career.
"I just reacted to the block they gave me," Clayborn said. "They jumped one side, I took it to the other side and good thing Ryan was right there."
Good things the Bucs got Clayborn.