Was 24 Carries For Blount Enough?
September 26th, 2011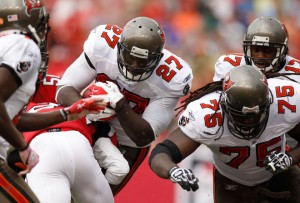 Finally, LeGarrette Blount got his touches yesterday, but for Joe it could have been a lot more, especially on first down.
Leading 16-3 entering the fourth quarter, immediately after Blount dragged tacklers for an eight-yard run on first down and moved the chains with a four-yard run to the Atlanta 44 yard line, Josh Freeman came out of the quarter break and thew an interception downfield. Why not keep pounding Blount, eating clock and driving to make it a three-score lead?
Then the Bucs get the ball back still leading 16-13 and hand it off on first down to Earnest Graham?
Atlanta then scores a touchdown on a two-play drive and the Bucs respond throwing on first down in a drive in which Blount never saw the ball.
Thankfully, Roddy White went on to drop balls, the Bucs defense held tough and Blount was given the rock in the final drive.
Joe's not sure what Greg Olson was thinking, especially considering Josh Freeman wasn't playing his best game.