Stocker A Big Part Of Rookie Parade
September 26th, 2011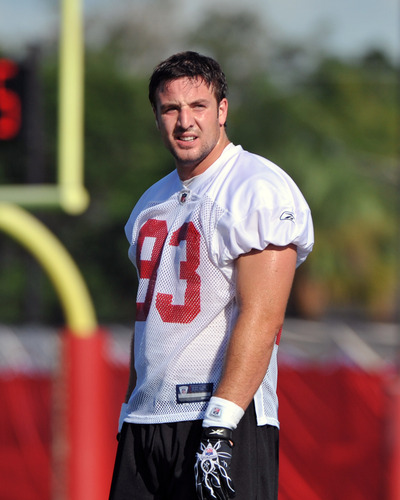 There goes the rockstar general manager Mark Dominik adding to his legacy again.
Sure, Adrian Clayborn was a first-round pick and is supposed to flash some greatness like he did yesterday, but late third-round pick Mason Foster is calling the defense making a massive impact, and late fourth-round pick Luke Stocker is proving he's the real deal.
If John Gilmore was the Bucs' blocking tight end last year, Stocker is a serious upgrade in that area. It's all there on tape. And Stocker, despite the ugly drop on opening day, has shown he's got some hands.
Speaking this morning on WDAE-AM 620, Bucs tight ends coach Alfredo Roberts said Stocker is a future captain of the Bucs.
"[Stocker] accepts the process. He understands and he gets it," Roberts said. "He's one of those guys that you can tell him once and he'll go out and he gives you good information if things go good or bad. He'll tell you exactly how it's going. He understands he has a ways to grow as a pro. We like a lot of things about the young man's character. I think he's going to be a great leader and a captain for this football team before his time is done. Him and Kellen began with a good to great friendship, a healthy respect of the game. Kellen takes him under his wing and shows him and teaches him and they watch film together. It's great to see him take coaching from coach and [veteran] player."
For the Bucs to have rookies making a serious impact against a permier opponent in Week 3 of the season is an extraordinary sign of things to come.