Graham Effective But Still Fumbling
September 18th, 2011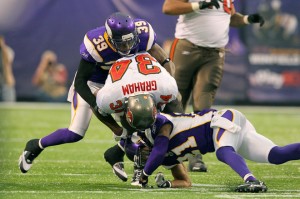 Is Earnest Graham really "Insurance Graham" if he's got a fumbling problem?
Today, Graham fumbled and turned the ball over on a critical play that was called back for a Vikings offsides. Last week, he coughed up the rock on a 4th-and-1 and recovered himself but didn't get the first down. Graham also fumbed on opening day against Cleveland in 2010, which cost him his job at the time as the Bucs' short-yardage back. And he only had 20 carries in 2010.
Graham was money today late in the game chewing up yards on draw plays, and he caught the five balls thrown his way. Joe likes Graham, but would have preferred Cadillac Williams as Mr. Third Down.
Regardless, Joe can't wait to see Blount work his way into more third-down action.