Up Next, The "Signature Win"
September 18th, 2011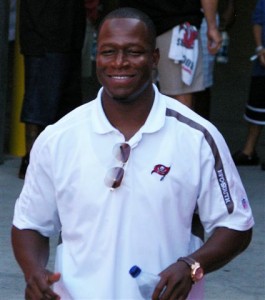 As Joe prepares to watch the Free Agency Bowl — Atlanta vs. Philadelphia — Joe wants to toss in his two cents about the Bucs-Falcons game next Sunday on the Bucs home turf.
Inevitably, this week columnists and talking heads are going to talk about the Bucs needing a W on Sunday to finally achieve the "signature win" that was yammered about endlessly last year as the Bucs rolled to a 9-6 record without beating a stud opponent. Then the Bucs went to New Orleans and won on Week 17, but the negaholics discounted the win since Drew Brees was pulled from the game in the fourth quarter to rest for the playoffs.
So for legions of Bucs fans and followers, the young Bucs have yet to rack up an impressive win.
That can change Sunday.
And while Joe doesn't buy into the "signature win" theory at all, it's still out there and means a lot to a lot of people. Joe will even go on a limb and say attendance could improve quite quickly if the Bucs were to knock off a team like Atlanta. Even if Atlanta falls to 0-2 tonight, they're still a top flight club.
So prepare yourself for the signature-win chatter. If the Bucs want to end it for good, all they have to do is beat Atlanta.