Quincy Black Injured
September 18th, 2011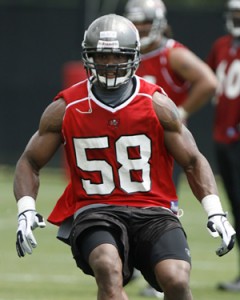 Not that he'll be missed by Joe or many other Bucs fans, but Quincy Black hurt his ankle against Minnesota and was removed from Sunday's game because of it.
Raheem Morris said during his news conference that Black wasn't producing and Dakoda Watson was inserted, careful to say that Blacked wasn't punished.
"Quincy had an injury. He went down with the ankle deal. He was limping. I got him out of the game. He wasn't productive for us today. Hopefully we can get him back next week and see where he is. I didn't bench him."
As Joe wrote earlier, the Bucs need to see a whole lot more of Watson.