Touchback Anyone?
August 13th, 2011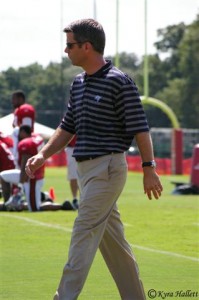 Joe isn't one to get aroused by a kickoff specialist, but Roboleg Koenen, the Bucs new punter/kickoff guy is probably going to win the Bucs a game this year.
Yes, Joe is aroused.
By Joe's count, in the first half Koenen had three touchbacks, including one booted out of the end zone. And the game-opening kickoff was halfway into the end zone and returned probably only because the Chiefs wanted to get their kickoff team some work. Elbert Mack proceeded to crush the Kansas City returner at about the 10 yard line.
Joe was pleased yet nervous about seeing healing Cody Grimm on the kickoff coverage team, but that's all but worthless at this point thanks to Roboleg and the NFL rule that's moved kickoffs up to the 35 yard line.