Josh Johnson Critical Backup
August 13th, 2011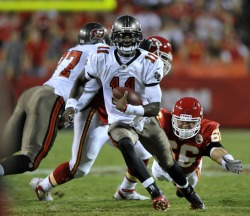 It was comfortable for Joe to watch backup quarterback Josh Johnson tear up the Chiefs tonight.
Johnson was Mr. Everything tonight. he led the Bucs in total offense, both through the air in passing and on the ground with rushing. His 24-yard run to bring the ball near the goal line was not an accident, so Johnson told the Bucs radio network after the game.
"On the run, it was a naked play," Johnson said. The Chiefs defense "covered all of my reads and I saw a seam and tried to let my natural ability take over. Coaches have told me to do that. I hoped to get the team in position to make a score.
"Coach gave me a lot of opportunities to put some drives together. I was finally happy to get to play someone else."
Johnson almost seemed a bit surprised he played that well as he noted it was difficult to go an entire offseason without a chance for OTAs or a minicamp or to hang at One Buc Palace studying tape.
"Not having an offseason was critical for us quarterbacks," Johnson said. "We didn't have a chance to get out mental reps in or get our feet wet. Now [in training camp] it's everything times-10. Fortunately, we have the same coaching staff and are not struggling with a new playbook.
"It's been different."
The way JJ is playing, he's putting together a reel for other teams to grab him next season when his contract is up.