Head Cheerleader Aqib Talib
August 13th, 2011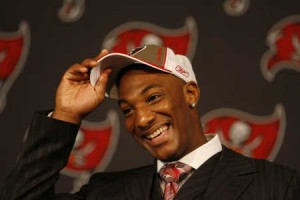 Wearing a Bucs t-shirt, his trademark fat gold chain and seemingly flanking Raheem Morris and Josh Freeman on the sidelines, Aqib Talib was the head Bucs cheerleader tonight.
Give that man a towel, tattoos and some pink hair, and he could have been Dennis Rodman cheering on his teammates (pick a team) as they ice another playoff game. Joe's glad to see Talib being a vocal leader and embracing the team spirit.
Sadly, the Bucs' real cheerleader hotties don't travel to road games. (Anyone see the somewhat obese woman wearing Kansas City colors that rode a spotted horse out onto the field as part of the Chiefs pregame hype? Joe's glad he lives in Tampa.)
Gerad McCoy, Arrelious Benn, Kellen Winslow, Myron Lewis, and Luke Stocker joined Talib among the Bucs in street clothes Friday, as Team Raheem stayed cautious with its wounded, though Joe didn't know Lewis was banged up — again.