THE OPTIMIST: A Happy Goodbye To Cadillac
August 14th, 2011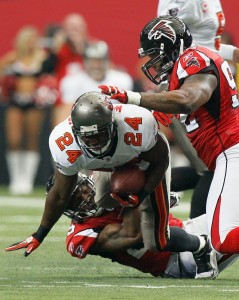 You've all read THE PESSIMIST, who spews his Bucs-related anger like no other. But Joe brings you THE OPTIMIST. 
THE OPTIMIST is Nick Houllis, a Bucs fan and an accomplished writer whose steadfast allegiance to the team goes back to the 1970s. Houllis is the founder, creator and guru of BucStop.com, a place Joe goes to get lost in time via Houllis' stunning video collection.
THE OPTIMIST will shine that positive light in your eyes. Some will love it. Some won't.
No doubt it was a sad sight last night seeing beloved Cadillac Williams in a Rams uniform scoring a touchdown and looking pretty darn quick during an 11-yard run.
When Cadillac officially went to St. Lous early in August, Facebook was on fire with differing opinions about the man who carried a big load for the Bucs for the past couple of seasons, and going back to 2005. It's hard to say who is right or wrong.
Cadillac was adored by many Bucs fans who love toughness out of their football heroes. We were crazy for our No. 40, Mike Alstott, and were able to overlook his fumbling problem for a few years because he scored touchdowns, was the definition of class, and with his Brad Pitt looks gave back to fans as fans gave to him.
We feel the same about No. 24; but is Cadillac Williams still a strong football player? Sure, last year showed us as much when he is not relied upon to be the main guy. Cadillac thrived in all areas as a third-down back. But much as Alstott had a downside, Williams two knee surgeries obviously had taken their toll.
People say Cadillac should be kept because he is a leader, yet most who played with him say he was quiet in the clubhouse. He wasn't a team captain. He may be a leader to by his example, but experience doesn't make one a 'leader.' One only needs to view the whole Cadillac Williams tribute Video on BucStop.com to see the way No. 24 ran in 2005 when he was a rookie. It wasn't the same as in 2010, and the Tampa Bay Buccaneers, first and foremost, are a business.
We don't like to think of it as such, but we're reminded of it every time one of our favorite players is bid adios by the organization. It was hard to swallow when Derrick Brooks was let go, but the Bucs needed to move on one day, they just felt 2009 was as good as any. Looking back even farther, Joe Jurevicius, Warren Sapp, Hardy Nickerson, all at some time had to sit at the desk of someone telling them they were great in their time, but time did, after all, move on.
And no, the decisions weren't always correct. John Lynch was let go even after offering to take a pay cut. The Bucs felt Lynch had his best days behind him, with his shoulder and neck issues. Tony Dungy (Colts), Herm Edwards (Jets) and Lovie Smith (Rams DC) all passed on him, too. Denver took a crapshoot, and hit big. Lynch played at a pro bowl level for several more years.
Up until this decade, Bucs fans have never really known what it's like to lose local sports heroes. Oh sure, Jimmy Giles was cut and picked up by the Lions, as was Kevin House, and Doug Williams left for the USFL, but it wasn't the same as when our Pewter guys were let go. But were now feeling what it's been like for other team's fans.
I can promise you Buffalo Bills fans weren't too thrilled to see Thurman Thomas close out his careerin a Miami Dolphins uniform. Or Dallas Cowboys fans watching the NFL rushing leader Emmitt Smith play his days out with a Bird on his hat. I won't even get into the Green and Purple stuff.
But life goes on for the NFL, its fans, and its teams.
Someone else will move forward to play second string to LeGarrette Blount, and he will do just fine. There was a time when Cadillac Williams had to be taken off the field on thrid down because he could not pass protect better than Michael Pittman. In time, that job became Caddy's.
We wish Cadillac well, and share our fond memories, and remember his courage and tenacity when we run into hurdles in our lives.