"I've Made A Ton Of Progress"
August 14th, 2011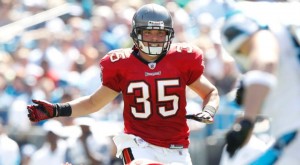 Joe heard sweet music today from Cody Grimm out at One Buc Palace. A massive key to the Bucs defense, specifically the run defense, Grimm is feeling great.
"I've made a ton of progress," Grimm said with a smile.  "I really needed to run on it [in training camp]. The ankle's a lot looser. I feel great."
The Bucs practiced in shorts today under the broiling sun and practice ended a bit early. There was also plenty of national media swirling around.
Dezmon Briscoe continues to be a big target with great hands. And Joe was thoroughly impressed by Ronde Barber running sprints after practice and staying on the field to tutor youngsters and relative no-names.
Check back with Joe tonight and tomorrow for more from today's practice at One Buc Palace. Joe's got a couple of great interviews with Micheal Spurlock and Jeremy Zuttah to share.