Raheem Morris, Gov. Rick Scott Exchange Words
August 6th, 2011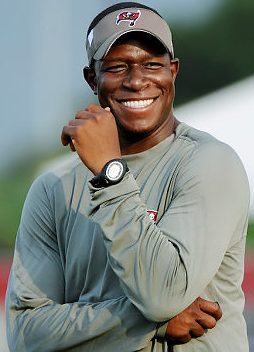 Bucs coach Raheem Morris generally says what's on his mind, which Joe finds quite refreshing if not entertaining. CBSSports.com's Pat Kirwan once referred to Morris as "brash."
So when unpopular Florida governor Rick Scott, the man who will go down in history as killing a federal high speed rail project between Tampa and Orlando, dropped by One Buc Palace for a tour Friday, Joe could have guessed Morris would have had a good one-liner for Scott.
But Joe was shocked to learn Scott, apparently thin-skinned from harsh criticism and his awful approval ratings, not just shot back at Morris but tongue-lashed the third-year Bucs coach, as documented by Rick Stroud of the St. Petersburg Times on Twitter.
@STROUDNFL: Bucs coach Raheem Morris tells Fla. Gov. Rick Scott, "I would've liked that light rail, but don't worry about that." … Fla. Gov. Rick Scott responds "The highspeed rail? I'll do that deal for you. Here's the deal. It's a great deal… I'm going to give you $2.4-billion, you have to put up a billion. You have to lose, oh, $100-million or so a year… And if you ever get tired, you have to give me my $2.4-billion back."
WHOA! Politicians of all sorts go to events, dog and pony shows, where they are heckled or needled by someone and rarely if ever does said politician snap like this at a fellow celebrity no less, right in front of the pen and mic club.
This just goes to show how defensive Scott is about what his legacy as the state's chief executive will forever be remembered for — which happened in the first few weeks of his administration.
Maybe Scott's all too aware how he sabotaged himself by his high speed rail decision and all but guaranteed he would be a one-term governor, just days after he took the oath of office.