New York Times Blasts LeGarrette Blount
August 6th, 2011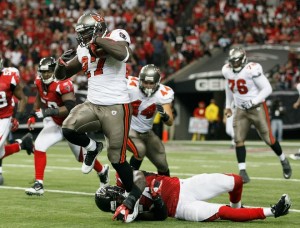 Joe didn't realize Jayson Blair was back employed at the New York Times under the name Andy Benoit. What a freakin' joke.
This Benoit character penned 2,000+ words breaking down the Bucs in a season preview story today. Joe stopped reading after the paragraphs below, when Benoit painted a picture of LeGarrette Blount getting 1,000 yards with smoke and mirrors.
And yet, put on the tape and it's easy to see why Blount went undrafted (no, character concerns were not the primary reason – they almost never are in the N.F.L.). A roundly built 247-pounder, Blount is far from fast. More damning is he's not powerful. Blount can't seem able to lower his shoulder and deliver a great blow. At times, he even stops his feet and braces for contract. His timing and vision are unrefined, and his blocking and receiving skills are poor.

Still, Blount is able to produce, mainly as a lumbering runner who's difficult to bring down in the open field (think of a bear that's been just shot with a tranquilizing dart). But this kind of style makes for an inconsistent rushing attack. Blount might put up yardage, but defenses have no reason to fear him. And it's still to be determined whether such a punishing style can be sustained for an entire 16-game slate (Blount played in 13 games last season, starting seven).
This has Joe steamed, not that Joe expects anything less from the New York Times. In one breath the guy writes that Blount is "not powerful" and can't "deliver a great blow." Then he goes on to say Blount might not last a whole season with his punishing style. Which is it, pal?
Joe has long believed that Blount's arrival revolutionized and revitalized the Bucs offense, and the guy got 1,000 yards old school, in 14 games or less, yet he's not revered as a superstar around these parts and surely not around the NFL.
Imagine if he cranked off a season like that in New York. Blount would be the second coming.  
Thankfully, the Bucs have stuck Blount's image on the side of the C.I.T.S. this week. Rightfully so. And if you want to do a good deed, email your thoughts to this Benoit character, who also works for CBSSports.com. He can be found at andy.benoit@NFLtouchdown.com .