Rambling Thoughts On Bucs Night Practice
August 6th, 2011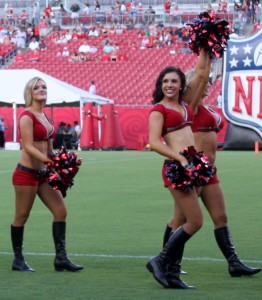 OK, Joe got back from the night practice and has cracked open his first beer of the evening — it won't be his last.
Joe's got photos he will post tomorrow, sorry for the fuzzy cheerleader photo above but Joe thought his readers will overlook how it's slightly out of focus.
Some random thoughts on the night practice.
* Joe wrote this last year and he will repeat it tonight: Thank you Team Glazer for putting this together. It was a blast last year and it was equally enjoyable this evening. Shoot, even the players did their best to delay getting on the bus back to the team hotel so they could watch the fireworks.
Last year Joe decided to be just a fan and swilled lowered-priced beer. Tonight, Joe was on the sidelines.
Just a great night no matter where anyone was. Seeing Bucs players competing against one another was fun and everyone knows they were going all out because egos were involved.
* Not to stray too far from football, but Joe is happy that multimedia mastermind Scott Smith took Joe's advice and hired former Bucs cheerleader Tiffany Jimenez to be a video host at tonight's event. Joe wrote this before when the Bucs had her do video features: There are certain lasses that are made for the camera and it's not their looks, but their personalities. Tiffany's bubbly personality just jumps off the computer screen. She really should be working TV in some capacity like a co-host of one of these weekday morning gabfest shows or perhaps a game show. ("A new car!")
Joe stands up and gives Smith a standing ovation. Nice. And to Tiffany, keep up the good work. You really should find yourself an agent. Sadly, Joe is not an agent.
* Joe was pleased to watch defensive backs hitting each other during drills and wrapping up. In each hit in this drill, a defensive back pretended to be a ball carrier. When the defenders hit the ball carrier, each time the defender wrapped up.
When Joe was in high school his coach, who had just retired from the Cowboys (Gene Stallings was Joe's coach's position coach),  pounded that drill into our heads daily and if we didn't wrap up, we ran. It drives Joe bananas that NFL defenders don't wrap up. Good to see Bucs coaches have the players utilizing wrapping up in these drills.
* In wide receiver/cornerback competitions, Mike Williams couldn't shake Aqib Talib. In another, Preston Parker had E.J. Biggers beat bad but Biggers turned on the rocket booster, made up the real estate and picked off a pass. Nice.
* During a scrimmage, Allen Bradford made a nice grab over the middle of a Josh Johnson pass for about eight yards and tried to elude defenders by running to the left sideline, running right at Joe. Bradford got totally lit up near the sideline by Adam Hayward and fumbled and Talib nearly had a fumble recovery but the ball rolled out of bounds.
* Joe at one point was standing five feet behind defensive tackles coach Keith Millard and there's only one word to describe Millard: Intense. Every play was like a goal line stand to win the Super Bowl. When his tackles got pressure on the quarterback, Millard would react like he won the lottery, jumping up and down like a little kid on Christmas morning who just got a new bike from Santa.
Mind you, this is a practice, not even a preseason game much less a regular season game.
* Johnson made a pretty touchdown pass to Ryan Purvis but it really wasn't fair. Quarterbacks are not allowed to be touched and Johnson was surrounded by three defenders. If this were a game, Johnson would have been buried alive.
* Adrian Clayborn is damned quick off the snap.
* Are fans, by way of the fourth estate, seeing a change in Bryan Glazer? Normally reserved, Glazer held court with a mob of reporters and later did a live TV interview with Rock Reilly and Out House Networks.
Joe can say this: If people think Team Glazer doesn't care about wins and losses, think again. But they are committed to Mark Dominik and share in his beliefs and philosophy. Don't expect the team to go wilding on the free agent market until Dominik believes the time is right to plug in a hole or two.
Patience, fans, patience.
In the meantime, have fun watching the Bucs. Joe, and tens of thousands did tonight.