All-Around Back, LeGarrette Blount
August 12th, 2011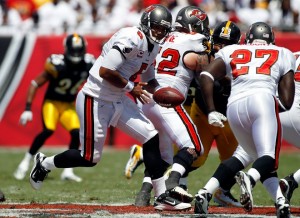 It was a beautiful moment late in the first quarter with LeGarrette Blount catching pass for six yards after a play-action fake to him. Yes, Blount catching a pass! Then he powered three yards up the gut to set up third down and a long yard.
Blount took the third down handoff in the backfield and lowered his head — no dancing, no hesitiation — to grab three yards up the middle for a first down.
Blount came running off the field to his head coach going bonkers and slapping him in celebration.
Frankly, this is the Blount the Bucs need to win a playoff game this season. The guy is too talented to be a first- and second-down back that never catches the ball and can't convert on short yardage — at 250 pounds.  That was fine last year when he was a rookie thrown into a new system and churned out 1,000+ yards and five yards a carry. 
Blount showed tonight that he's evolving. Joe's giddy at the thought of what this guy can do in 16 games with more touches behind a very high-priced offensive line.