"He's Going To Make Some Full Speed Mistakes"
August 6th, 2011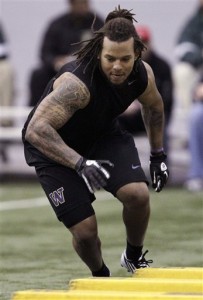 Listening to Raheem Morris' news conferences daily, Joe hears more and more Chucky.
Not Chucky the head coach, but Chucky the BSPN talking head who never saw a player he didn't like. Raheem seems to love everybody on his roster. Joe gets how coachspeak goes, and the Bucs don't exactly have a bunch of stiffs running around, but Joe's not detecting Raheem publicly lighting a fire under anyone's ass or showing any sign of jumping off the Love Train.
Now that Joe has that off his chest, Raheem is, of course, liking how Mason Foster is zeroing in on the mike linebacker job, even taking first team reps.
 "I'm really liking where Foster's going. I'm really liking him taking control of the defense," Raheem said today. "He's going to make some full speed mistakes, which I'm a fan of when you're a rookie. I'm ok with that, and so are his men around him. They'll help him. They'll guide him through."
Joe's about over training camp and can't wait to see these guys fire it up on Friday night in Kansas City. It's been too long.