"King Of Hustle" Re-Signs
August 5th, 2011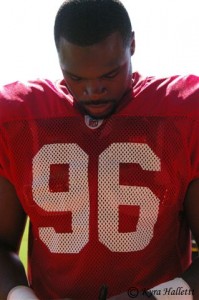 Joe's feeling a lot better now that the Bucs have brought back free agent defensive end Tim Crowder, who signed a two-year deal.
The man Raheem Morris called the "King of Hustle" last year is an important piece of the puzzle. Yeah, Joe really means that.
In the back of Joe's mind lives the obvious injury concern with Da'Quan Bowers. Keith Millard brought it up just yesterday. Sackless, never sleepless, Kyle Moore has a lot to prove. And Alex Magee might not be the most reliable guy in the world.
Crowder plays both sides of the line, is a major cog on special teams, and in Joe's mind he should have qualified as an emerging player worthy of rockstar general manager Mark Dominik's thumbs-up. Thankfully, he did.
Crowder might be the only good thing to come from Jim Bates, who snagged him in the second round of the draft with the Broncos back in 2007.