Are Bucs Fans To Blame For London Game?
August 22nd, 2011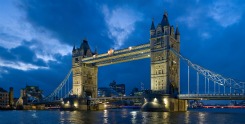 The Bucs are playing in London for the second time in three years this season, once again against a high-profile, popular opponent.
Sadly, this move of another Bucs game to London has triggered ugly domestic disputes among Bucs fans. The sheer thought of yet another loss of a home game overseas, forced upon a kickball-loving, royals-obsessive public, has enraged many a Bucs fan.
ESPN blogger Pat Yasinskas sure seemed to hint in a recent NFC South mailbag that Bucs fans not buying tickets is the root cause of this move and that Team Glazer doesn't want to be shamed with Bears fans filling The CITS.
Nate in Alaska asks why Tampa Bay keeps drawing games in London.

Pat Yasinskas: I think there are two reasons. First, the Glazer family has ties to the United Kingdom. The Glazers own soccer's Manchester United and, although they might not be beloved by fans, bringing the Bucs to London might help their public profile. Second, the Bucs have been having trouble selling out Raymond James Stadium. If the game against Chicago was held in Tampa, the stadium might be loaded with Bears' fans and that can be embarrassing. The game in London is pretty much a guaranteed sellout and the crowd won't be rooting against the Bucs. I don't think the NFL is forcing these games on the Bucs. I think there is a willingness by the team to go overseas.
Now Joe was under the impression — he could be offbase — that Team Glazer offered up the Bucs for another London game because the NFL was in a pinch thanks to the asinine lockout.
Joe understands that NFL warden commissioner Roger Goodell wants to grow the game, meaning expose the NFL to markets yet untapped. Hence, games in London.
Obviously, Joe's not a Park Avenue marketing maven, but Joe would think that, say, Mexico, despite it's drug cartel-laden violence, would be a better market to tap into. Mexico is double the population of Great Britain and there seems to be a bigger pocket of NFL fans there.
At least if the Bucs played in, say, Cancun, it would be a nice, easy, quick vacation spot for Bucs fans and it's doubtful you would hear many Bucs fans kavetch too much over this.
Who the hell wants to spend hundreds, perhaps thousands, of dollars to go to England in October? Brian Urlacher doesn't.