Tim Ryan Talks To Joe
August 22nd, 2011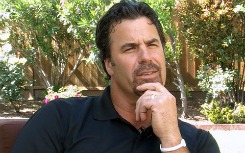 Last week when the best nationally broadcast football radio show came to One Buc Palace as part of its "Training Camp Tour 2011," Joe got a chance to chat with the co-hosts of "Movin' the Chains," Pat Kirwan and Tim Ryan, heard exclusively on SirusXM NFL Radio.
 First up was Kirwan. Now it's Ryan's turn. The former Bears defensive tackle regaled Joe with how geeked he is for the Bucs and gave a special take on Bucs first round draft pick Adrian Clayborn.
 FYI, Ryan, who also calls games for FOX Sports, will work the Bucs season opener against Detroit.
JoeBucsFan: What is your vibe about the team now that you have interviewed some coaches and players and watched some practice?
Tim Ryan: Exciting. I think that it all starts with the quarterback and everybody will say that but there are other good pieces to the puzzle. Getting the O-line re-signed and back with Davin and Jeremy, good move. Mike Williams, great move. Kellen has had a great offseason. Go back and watch the tape like I have of every game, he is still playing at a high level. The more LeGarrette Blount gets it going, watch what it does to the tight end position and watch how those two will feed each other in terms of how many guys stay in the box to defend the run and how many guys gotta get out there and cover Kellen Winslow in the base packages in terms of a backer. There are really, really, really simplistic ways to reduce the number of defenders just in the running box just by flexing your tight end out a little bit in some of your base packages. Those two guys will feed each other.
I am so excited for the defense and the defensive line. Look, this league has become about quarterbacks and the line of scrimmage. Go watch Matt Ryan and watch how many times he is at the line of scrimmage Peyton Manning-esque, calling the plays, dialing things up, controlling the tempo. There is not a greater equalizer in the game on defensive linemen and the impact of a game than a quarterback who is playing hurry-up and controlling the tempo of those defensive linemen. When you go get more guys and you keep shuttling guys through.
No one wants to talk about Kyle Moore who was a fourth-rounder a couple of years ago but he is part of the deal because you are going to have to have seven guys who can consistently go with fresh legs who can rush the passer. You couple that with the addition of Keith Millard who was a great undertackle in Minnesota, really in the same base form of this defense in what Monte Kiffin did up there, great addition to those guys. All that speed is going to show up. I'm hoping for Brian Price that he can get out there and go.
I'm a little bit worried about the third down defense without Barrett Ruud although I know Quincy Black is going to be stepping in there in the middle.
I'm excited man, just talking to these guys. Listening to them and their maturity, and the coaches and what Mark Dominik is trying to do here. Think of Green Bay how they built through the draft. This team is built to win now, but they are built to win a championship in two years. That's my opinion.
The quarterback will continue to get better. Can they win the division this year? You bet they can win the division this year. But you look at Atlanta and you look at New Orleans, where I am thinking — and I will never concede this year for these guys — they could win it but if you think of a year or two down the road: Drew Brees will be two years older. Michael Turner down in Atlanta will be closer to the end. John Abraham will certainly be closer to the end.
This team is certainly closing the gap day by day by day with the signings and still be competitive on the field. So what Mark is doing down here, I know he has taken a lot of flak for the lack of some free agent moves and building this thing through the draft. He's building this thing to win now, but to really win the Lombardi Trophy in a couple of years.
Joe: Donald Penn is raving about Adrian Clayborn. The two of them lock horns each day in practice. How much as a rookie does going against Penn each day help Clayborn?
Ryan: Oh, it is helping him but here is the problem with that: He knows Donald Penn already. He has studied Donald he understands Donald he knows where Donald's weaknesses are and vice versa and those guys can help each other. Anytime he can go against a Pro Bowl tackle and he can tell him, "OK, here's what gets me, here's what doesn't get me. Here is what you are doing wrong: You've got to get a little lower, you have to use your rip a little more, maybe you need to develop a counter move… "
All of that stuff is great. But until he gets a black book on the other tackles in the league, on the guys that are in New Orleans whether you are talking about [Jermon] Bushrod or Sam Baker in Atlanta or Jordan Gross [with Carolina]. Once you start getting a book on those guys, now you are cooking with gas because you know what their weaknesses are too. But he is such a talent. I think in talking to him such a motivated guy and a precocious guy in terms of how he sees the game, he is going to be fine. He is going to have a fine rookie year.
Joe: Clearly the Bucs drafted Clayborn to get heat on the quarterback but against the Chiefs he looked like he was stopping the run pretty well also. This is sort of icing on the cake.
Ryan: Well, if you play in the Big Ten you learn how to play the run. You have to and everybody talks about his Erb's Palsy and the amount of reps he did at the combine and that stuff is never going to change, it is a condition he's had all his life. I have watched the tape and the guy has been able to make up for it in many other ways. Getting to look at him physically, he doesn't look like he is shortchanged in any areas. You don't draft a guy that high where they drafted him to not be able to play the run and to be exclusively a third down pass rusher. So I am excited for him.
Joe: Well, you were an NFL defensive tackle, speaking of combine reps, Warren Sapp's famous line is "You don't pump weights at the 50-yard line." And he didn't have a great weight rep at his combine.
Ryan: Here is my saying: "I've thrown around a lot of 500-pound benchers." Weight reps don't always translate to the football field. This is a game of balance. This is a game of speed. It's a game of leverage. Is a bench press great and a great measure of strength? Yeah, it is. Now some guys translate great but I've seen a lot of guys who can lift weights all day long but they get out on the football field and they spend 58 of the 60 minutes of a game on the ground and they can't play football.
So [Clayborn] will be fine. He will get stronger while he is here. Maybe the bench doesn't go up because of his condition but watch what happens with his power clean. Watch what happens with his squat. I have always said this: The game is played from the lower body down. Especially as a defensive lineman. Low man wins and leg explosion and Clayborn has all of that.