Waiting For The Rush Defense
August 22nd, 2011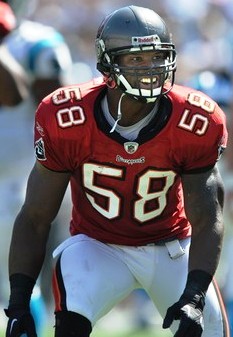 Yeah, yeah, yeah, Joe knows it's preseason and Joe knows win-loss records, among other things in preseason, mean about as much as whatever Joe flushed the morning after a plate of chicken fajitas washed down with several adult beverages.
But an irritant for Joe hasn't gone away from last year, even with a shutout slapping of the Chiefs.
The Bucs are still giving up chunks of real estate on the ground.
Through two preseason games, opponents are rushing for an average of 4.8 yards a carry, so notes eye-RAH! Kaufman of the Tampa Tribune.
Kaufman also documents how the Bucs were 28th in the league in rushing defense last season, giving up 4.7 yards a carry.
Now Joe knows that defensive tackle Gerald McCoy has only played one game and that is likely a factor as is middle linebacker Mason Foster is still as green as a lime having just a handful of practices as a pro.
Simply put, if the Bucs plan on making it to the playoffs with a much tougher schedule than last year, toughing up the run defense is an area that simply cannot be avoided.