Why Kevin Carter Retired
June 21st, 2011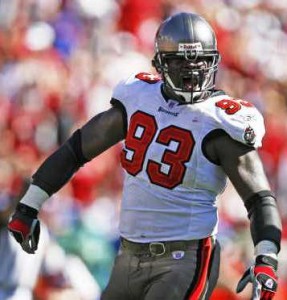 When Team Glazer jettisoned Chucky and Bruce Almighty after the 2008 collapse, when the season went from looking like a division title lock to watching the playoffs at home, one of casualties was defensive end Kevin Carter.
One of the smartest, most eloquent guys on an NFL roster, Carter had a pretty good year with the Bucs. But the overhaul of the Bucs roster by not-yet rock star general manager Mark Dominik ended Carter's career in Tampa.
Recently, Carter sat down with ProFootballFocus for an interview and discussed why he decided to retire after the Bucs didn't pick up his contract after the 2008 season.
I know it was some time ago, but I want to try and take you back. From your last season in the NFL, we have stats from back in 2008 on your individual games. That season with the Bucs, we ranked you as the 13th best 4-3 DE in the NFL at +15.3. With such a solid season in'08, why hang up the cleats?

You know what? There are so many reasons why I decided to walk away from the game. You never want to leave the game, but anybody will tell you if you have to leave the game … you want to do it on your own terms. Every time you walk back into that locker room, there's a chance you take that you will NOT leave the game on your own terms.

People leave the game for many different reasons. Some times no one wants your services. Some times you just don't have it any more. Some times you want to play on a certain team and they don't want you and maybe you have to go somewhere else to play and it's just not worth your time, or you can't make the money you want to make.

For me personally, when I took a look at it I had a couple of offers from some really good teams. I could have gone to Carolina. I took a trip up to the Patriots and sat down with Coach Belichick. That was a situation that was a match made in heaven. It was a dream come true for me. I had always wanted to play for Belichick and this opportunity lay right in front of me. I really wanted it, but I always told myself that if I don't have the same fire walking back into the locker room after the season then that's my indication that I don't need to play anymore.

I was in a situation where the Bucs decided to go younger, so I couldn't play there anymore. I had to take my show on the road. I had opportunities on the road at different places, but it wasn't worth it to me anymore. I didn't have the same fire and I didn't want to go after it the same way. If you don't have the same fire going into the locker room, that's when you get hurt. For 14 years, I felt the same way. The one time I felt differently, I walked away.

I left the game on my own terms. I left the game healthy, wealthy, and blessed. Should I have played a couple more years? My agent thinks so. He thinks I probably should have played a little more, but I'm satisfied and thankful.
Carter was one of Joe's favorite NFL players because the guy was so smart and such a good guy. If you think about it, what Carter did takes stones. Tiki Barber is now realizing (other than the fact he's broke) that he retired too early.
Once you are out of the game, chances are you will never be able to return. You live one life. It's understandable why many NFLers hang on because when Father Time says you are done, you are done.