Davin Joseph And Barrett Ruud Unrestricted?
June 21st, 2011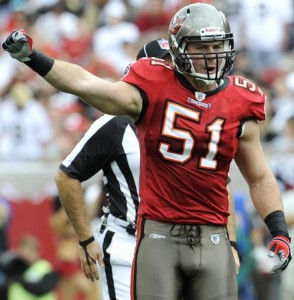 Joe is bracing with all his will not to get excited. But the word from multiple sources out of Chicago where NFL owners are meeting suggest the free world may be on the verge of ending this asinine NFL lockout.
Without going into the boring details only an accountant would love, Don Banks of SI.com Twittered there was "no significant dissent" upon owners to proceed on the latest proposal to the NFLPA.
Adam Schefter also Twittered that under the new proposal, all players with at least four years service in the NFL whose contract has expired would become unrestricted free agents.
That, my friends, would include both Bucs offensive tackle Davin Joseph and Bucs middle linebacker Barrett Ruud.
In other words, both players would be free to go wherever they so wish.
So if this deal goes through (if there is a God), we will soon learn if Ruud truly is as PO'ed at Bucs management as some believe he is for not reupping his contract previously.
Update: Per Stephen Holder of the St. Petersburg Times, he Twittered that if this deal goes through, the Bucs would have 11 unrestricted free agents including Quincy Black, Jeremy Trueblood, Stylez White and Cadillac Williams.