Talib Fight On Multiple Fronts
June 16th, 2011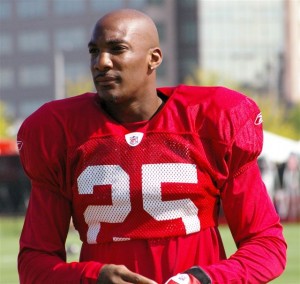 Aqib Talib's legal team is back in court this morning in Dallas County in what seems like the next step in setting up a plea deal for the allegedly gun-toting, trigger-happy cornerback accused of aggravated assault with a deadly weapon in March.
Joe expects a deal to come at some point — not necessarily today —  but only if Talib doesn't have to admit to any kind of gun possession. There's flimsy evidence that he used a gun, and admitting to gun play surely won't go over well with Roger Goodell when it comes down to a possible league suspension.
As for that suspension, Talib's got his fellow players apparently fighting hard to ensure all crimes committed during the lockout don't count toward the league's discipline code.
Roy Cummings, of The Tampa Tribune, noted comments at NationalFootballPost.com explaining that players are taking the issue very seriously.
In a breakdown of the top 10 issues being negotiated, nationalfootballpost.com founder and ESPN NFL business analyst Andrew Brandt says the players are fighting for a clause that calls for no discipline for lockout conduct errors.

 "Players feel (Commissioner Roger) Goodell has jumped the shark with overzealous discipline in a Policy not collectively bargained. They want an independent arbitrator for appeals and with no governing CBA, no discipline for lockout conduct,'' Brandt wrote in his NFP column.
It's interesting. Even if the asinine lockout leader Goodell gets his way and the league will discipline players for lockout funny business, one might think Goodell won't use a heavy hand on any incident during the lockout as a nod to the fresh, new agreement with the players.
After all, he won't come out with any disclipline until football returns, which means a new era of peace and harmony is in place. Hammering down on Talib would seem like a bizarre step out of the gate.