Bucs Might Have To Spend, Spend, Spend
June 15th, 2011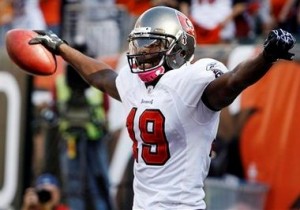 Stats are for losers, Raheem Morris tells us, but among those that stand out is Team Glazer being a very low spender on player salaries for a very long time. The numbers don't lie.
Last year was no exception, as the Bucs were super young and the salary cap disappeared freeing up teams to spend as much or as little as they wanted. Team Glazer ran a mean and lean 10-6 ship.
Today, ProFootballTalk.com guru Mike Florio shares that the owners are proposing teams must spend mass quantities of cash and the divide between the salary cap floor and ceiling is likely to tighten with an increasingly likely new labor agreement for 2011.
The offer made by the owners on March 11 included a commitment to spend 90 percent of the salary cap in cash. This would prevent teams from relying on "dead money" arising from trading or cutting players with large contracts in order to meet the minimum, and it would require all teams to spend a lot of money.

If this provision makes it into the final deal, it means that teams on the low side of the spending equation (and several were millions below what the cap floor would have been in 2010) will have to spend a lot of money in 2011.
If this happens, and the football gods seem to be happily warning it will soon, Team Glazer is going to be sitting on a mountain of money it will have to spend — literally many tens of millions of dollars this season.
The Bucs could dive into free agency to meet their new financial demands, but they could decide to find creative ways to extend deals of younger players with some up front cash and stick to their new stated core beliefs of building through the draft — call it the post-Haynesworth era.
Joe thinks of guys like Mike Williams, Legarrette Blount, Geno Hayes and others making peanuts by NFL standards, and Joe wonders whether the Bucs would rather reward those guys as their first option.