Davin Joseph Struggles With Free Agency
June 28th, 2011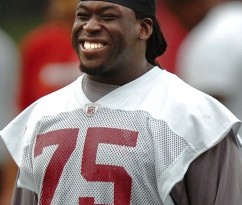 Davin Joseph is good people. He could big league damned near anyone, and not because he's bigger than most people.
If one were to see Joseph at the mall or walking down the sidewalk, he's more apt to stop and talk then give someone the brush off.
Though he's a South Florida kinda guy (despite playing for Oklahoma), the Tampa Bay area is his adopted home. The free agent right guard would love to retire a Bucs player. But more often than not, that's a wildly naive thought in today's NFL.
That's why when discussing his uncertain status for the 2011 season, Joseph gets visibly depressed.
"You know (sighs), gosh it's tough," Joseph said during a break in Day 1 of Josh Freeman's three-day minicamp at the IMG Academies in Bradenton. "If you ask me what I want to do versus what is going to happen is two different scenarios.
"I want to stay. But, I have to do what's best for me and my family. That is the hard part about free agency. You built something here. You love the players and you love the coaches. You love the community. But at the end of the day, it's a tough decision to make. Hopefully, everything will make sense to stay here."
While some may suggest the defense would crumble without fellow free agent linebacker Barrett Ruud, Joe cannot emphasize how important it is to have a deep offensive line. That showed last year when three Bucs starters on the offensive line went down with an injury, including Joseph.
Joseph is a solid player if not a Pro Bowl player. A smart player. A good guy.
This is the kind of guy a team should keep, playing on such an important element of a football squad.