Bowers Says He's Pepperslike And Feeling Great
June 2nd, 2011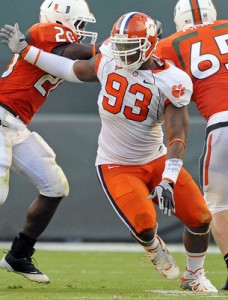 Perhaps more than any other Buccaneer, Joe's aching to see Bucs second round pick Da'Quan Bowers take the field. What an X factor this guy could be. Key word: could.
Bowers was relaxed and confident for an Internet radio interview with a site called DraftCountdown.com this week. The sack artist was very upbeat, though Joe was a bit troubled when Bowers said he thought he could participate in 80 to 90 percent of drills right now if the Bucs opened camp.
"You know. I spoke with Dr. Andrews and he did some research on my knee, and there are no long term effects," Bowers said. "You know, a lot of people think I had microfracture surgery, which isn't the case. I had a surgery called chondroplasty, and it's nothing like microfracture. It was a small surgery. I was walking the same day without crutches."
Bowers went on to acknowledge concern about arthritis in his knee, but he said he feels great and wants to make sure the Bucs "look like the geniuses that they are" for drafting him.
He also said he's excited to play left defensive end opposite Adrian Clayborn and explained he has "the quickness of Julius Peppers" and the strength of some guy named "Reggie Bruce." Joe assumes/hopes he meant Reggie White.
Bowers said he was in Tampa recently to visit Josh Freeman's workouts and his stated impression of the turnout was 30 to 40 guys.
Joe hopes Bowers gets healthy. Damn, the Bucs could use a healthy dose of nasty coming off the edge.