"At The End Of The Day, It Was Raheem."
June 2nd, 2011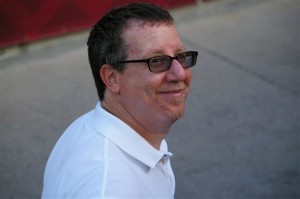 In an extremely rare occurrence, Bucs co-chairman Bryan Glazer sat down for a brief interview with Joe's good friend "The Big Dog," Steve Duemig, this afternoon live on WDAE-AM 620. Among the things Glazer talked about was why he hired rock star general manager Mark Dominik and coach Raheem Morris, how in-house decisions are made and who was responsible for drafting Bucs quarterback Josh Freeman. Hint: "… it was Raheem."
Steve Duemig: You made the decision to re-sign Mark Dominik and Raheem Morris and extend their contracts, tell us about that.
Bryan Glazer: We made the decision to hire them two years ago. Mark, he has been with the organization for 16 years, as long as I have been here. We saw him work his way up from a scout and we learned to trust him. Raheem, we have known for close to 10 years. They shared what we wanted to do going forward and that is to build a lasting contender, not just one or two years in a row.
Duemig: You have done that in the past with Coach Dungy.
Glazer: It takes some patience. You have to have everyone on board. But that was the feeling from day one. We knew there would be bumps in the road, we knew it would be painful but we knew that the team would be successful.
Duemig: It seemed there was a quick turnaround. Were you surprised by the 10 wins last year?
Glazer: It did not shock us. The previous season, we could have won more games. We lost a few games in the last minutes. When people — and I won't mention any names — said we would win two or three games, I'd laugh. We had the talent and Josh was getting better and it was a wonderful year. Most fun I've had in a long time.
Duemig: Consistency, it's important to have a solid quarterback, you don't want to change that.
Glazer: Yes, and you see the teams that have longevity and long success, you see a franchise quarterback.
Duemig: Was that the owners' decision to draft [Freeman] or was that management's?
Glazer: At the end of the day, it was Raheem more than anyone else. His one year [at Kansas State where Freeman was the starting quarterback] he got to know Josh and he told us the whole story. From there, it was an easy decision.
Duemig: How much do you get involved — it is rare to get a chance to talk to you. I know from your history you let people do their job but you have the final say.
Glazer: That is correct. We hire good people to do their job. Yes, we are in the room when they make the decision but at the end of the day, yeah, it's our decision but we trust our people.
Duemig: Has there been a bump in season ticket sales?
Glazer: We we had some success. Fans have gotten to know the team a little more. There is a way to go but we are excited and optimistic.
Duemig: With the advent of HDTV, have you had or are there any discussions in owners meetings to try to keep fans in the stadium?
Glazer: We talk about that all the time. We have to make the in-game experience more fun than the home experience. At home, you are just steps from the refrigerator. In-stadium, there is no way to match that experience. But it is a challenge. It's a challenge for all teams, not just football.
Duemig: How do you do it?
Glazer: We are talking about some things that I can't mention now but we know it's a challenge. People can stay home, they can go to the beach, they can go to the movies. We have to get people to come to the game. A game situation has to be fun. This is a good market. Look at the Lightning and what they have done. The Rays too. This may be the most exciting 12 months for Tampa Bay sports. Fans will enjoy themselves at games and have a good time.