Dear Josh: Make The Workouts Public
May 22nd, 2011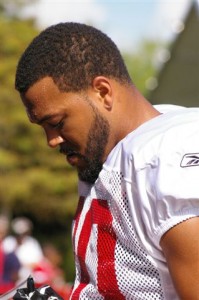 Rather than write to his pen pals in a renowned Russian women's prison, today Joe is penning a note to Josh Freeman.
Dear Josh,
Joe hopes you're having a fun offseason and continuing to train hard with blocking icon Michael Clayton. There may never have been a better practice player in Bucs history, so he's probably a solid choice.
As the unquestioned leader of the Bucs, Joe wants to advise you to make your next workouts with skill position players open to media and fans — at least in part. Consider the prior week of workouts a test run. Now it's time to play to the community.
Your Bucs aren't your typical NFL team. They struggle to sell tickets, and they need all the buzz and loving local publicity they can get. You charging a couple of bucks to watch a practice, hiring a few security guards for the event and giving the proceeds to charity would be a great move on so many levels. Believe it or not, there are legions of people whose lives would be enriched by the chance to watch you throw a spiral to Sammie Stroughter. Not everyone's world is as glamorous as yours.
The TV cameras would be all over it, and how could the world seeing players hungry to play be bad for your labor negotiations?
Frankly, Joe sees no reason to keep the workouts completely private. The Bucs don't play the Patriots in 2011, so there's not much to worry about there. And surely, you guys can handle signing autographs for the average Joes (no relation).
Do the right thing, Josh. Every Bucs fan knows you're calling the shots.
Be your best self. —Joe