Mason Foster Is Not "Significant Leverage"
May 22nd, 2011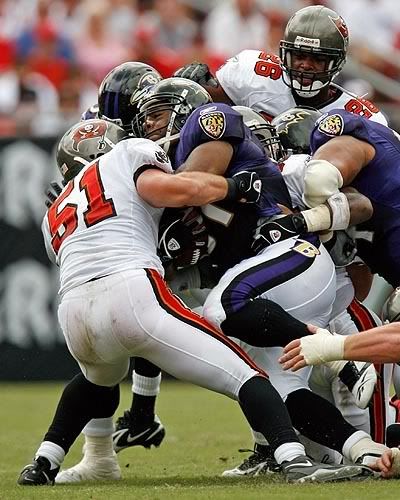 Bucs third-round pick Mason Foster may be a lot of things: He could be another Ray Lewis, per Raheem Morris. He could be Derrick Brooks and Shelton Quarles rolled into one, so claimed Herm Edwards.
But Joe is quite certain Foster is not leverage in the Bucs' future free-agent negotiations with Barrett Ruud, as St. Pete Times writer Stephen Holder wrote today in a piece about Ruud. 
Ruud won't even speculate on the chances of a return to Tampa Bay. The Bucs drafted Washington LB Mason Foster last month and have initial plans to use him as a middle linebacker, something that would give the team significant leverage in any potential negotiations with Ruud and makes his departure more likely.
Joe likes the Foster pick as much as the next guy, but nobody knows if he's going to be any better than Tyron McKenzie, another third-round pick (Patriots, 2009) the Bucs seem to like, too. Either of those unproven guys is meaningless to the Ruud negotiations.
The only leverage the Bucs might have with Ruud is his perceived value on the open market. If the rest of the NFL is horrified by Ruud's film, like many Bucs fans are, then the Bucs have leverage. If not, well, odds are Ruud is gone. Is Mark Dominik going to overpay for Ruud? Highly doubtful unless a new salary cap floor changes the game in a bizarre high-pressure, abbreviated free agency period.
Joe believes it's Ruud who eventually will have strong leverage on the Bucs if the lockout extends deep into the summer. The odds of the Bucs wanting to start Foster at middle linebacker after an abbreviated training camp and preseason are pretty slim.