Lockout Could Hurt Josh Freeman
May 22nd, 2011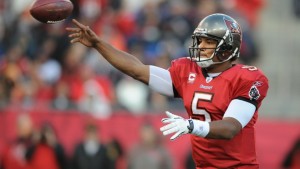 The asinine lockout fronted by NFL hatchetman Roger Goodell continues and this mind-numbing work stoppage has no end in sight.
And the longer it lasts the more it hurts Josh Freeman. That's the word from Ron Jaworski, per eye-RAH! Kaufman of the Tampa Tribune.
Seemingly better known as "Jaws" on BSPN's Monday Night Football, Jaws speaks from both research and his own personal experience as an NFL quarterback. Jaws is convinced Freeman's timing will be way off the longer the lockout drags on.
Singling out the Patriots (Tom Brady), Colts (Peyton Manning) and Saints (Drew Brees), Jaworski said the lockout isn't likely to hurt clubs led by veteran quarterbacks as much as teams like the Bucs, who rely on 23-year-old Josh Freeman under center.

"A lot of Josh Freeman's terrific development last year can be traced to the work he put in during the spring and summer before training camp opened,'' Jaworski said. "Things are a lot different right now and I think you'll see the effects on quarterback play when the 2011 season begins.''
Yeah, Joe knows that Freeman is holding periodic private workouts, but who is there? Who is participating? Joe was under the impression blocking icon Michael Clayton was with the Giants now? This is all very confusing.
Each day this lockout grows, Joe gets more and more irritated!