Dominik On Clayborn
April 28th, 2011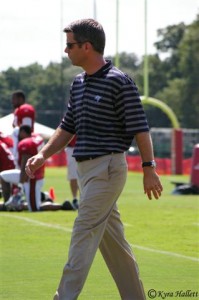 Speaking at the official Bucs draft party to Justin Pawlowski of WDAE-AM 620, Bucs rock star general manager raved about the newest Buccaneer, defensive end Adrian Clayborn.
Dominik said Clayborn was No. 1 on his draft board.
"When you see Adrian Clayborn play you see what a tough, physical agressive player he is," Dominik said. "He is. He's a finisher. He may not be your prototypical looking defensive end. But I'm not looking for prototypical, I'm looking for production. And he gives that every day."
"Everybody in the building thought Adrian Clayborn was the perfect fit for the Bucs.
"I'm not a measurable guy like that, I go back to the tape," Dominik continued, referring to Clayborn having one arm shorter than the other. "And he's just as good off the field as he is on."
Joe's fired up to see Rambo take the field.