Other Ends On Raheem's Mind
April 28th, 2011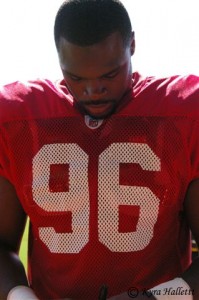 Joe loves to read between the lines, so Joe found it telling that Raheem Morris mentioned two other defensive ends during his brief post-draft interview on WDAE-AM 620 tonight with Justin "The Commish" Pawlowski.
Sharing his love for new Bucs DE Adrian Clayborn, Raheem specifically mentioned Tim Crowder and Michael Bennett as defensive ends Clayborn would be working with daily.
Joe just finds it interesting that Crowder and Bennett were on the tip of Raheem's tongue, and Kyle Moore, Alex Magee and Stylez White weren't.
Maybe it's meaningless. Maybe it's not. Joe's a big fan of high-motor Crowder and Bennett, so Joe's not complaining.