Chris Hovan Lashes Out At Aqib Talib, Bucs
April 22nd, 2011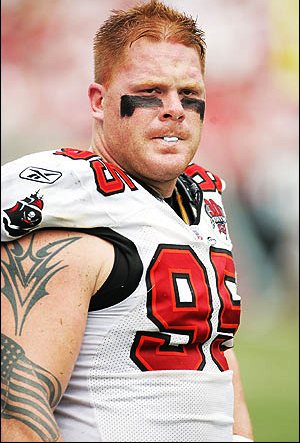 It doesn't appear Chris Hovan and Aqib Talib will exchange Christmas cards later this year.
Thursday afternoon the former Bucs defensive tackle, a former teammate of Talib who also played under Bucs head coach Raheem Morris, appeared on "Happy Hour with J.P. Peterson" heard on WQYK-AM 1010. Speaking under no uncertain terms, Hovan unleashed a tirade aimed at Talib, Morris and to a lesser degree Bucs rock star general manager Mark Dominik, inferring that Morris and Dominik are enablers and indirectly responsible for Talib's string of violent, sometimes criminal acts.
In short, Hovan doesn't believe Talib belongs on a roster loaded with budding young talent, a team with a bright future.
Namely, Hovan doesn't believe Talib deserves to be with the Bucs.
Chris Hovan: How many strikes does Aqib get? I mean, really? He beats up a taxi driver. He beats — I saw what he did to Torrie Cox by hitting him in the head with a helmet. I have never seen that before in my 15-20 years of playing football.

J.P. Peterson: He didn't do it on purpose…

Hovan: Yes he did.

J.P.: You think he did?

Hovan: Yes he did. He took his helmet off and he whacked him over the bridge of the nose. He knew what he was doing. He has been given too much leeway from Raheem Morris because, I guess, Coach Morris [the Bucs former secondary coach] has favoritism towards him because he played defensive back. Again, they are giving this young man way too much leeway. Any other individual would have been cut way before this. But Aqib has so much talent — his talent goes through the ceiling. But you can't keep having these offseason issues and you can't keep covering for this kid. They are saying it's OK for what he is doing and he just pistol whipped somebody in Texas. I mean, how many times does ownership and management let this kid get off? It's not fair to the other players because you have all these other players following the straight and narrow and you are letting one individual go out and do his own thing? I don't feel that is acceptable right now. Raheem and Mark Dominik need to address this because they are saying he is bigger than the team right now. I mean, J.P., how many times do you let this guy off the hook now? How many times? I mean, how many people does he have to hurt? How many times is he going to get sued? How many times is he going to go to jail before you get it right? Who is going to step in? Is Raheem going to step in? I have not seen Raheem step in.

J.P.: Well, that was my big problem. After the Ravens incident when he went after the official because the official said something — you can't go after an official physically like he did. He had to be restrained. And the Bucs answer to that was, "No, he didn't go after him. Nothing happened there." And that — I understand they are trying to keep him eligible. They don't want Roger Goodell to step in. But look: At some point you have to put your foot down. He got injured anyway so he ended up not playing. You've got to put a stop to it. Otherwise, he is going to keep doing it.

Hovan: Right now the Bucs are saying it's OK. By allowing this right now and that is not how you build a football team. If you are going to build your football team on character, discipline and playing tough football then you cannot let all of these off the field and on the field incidents happen. I mean, this is totally out of the realm of what they are trying to do right now for the Bucs organization. Aqib is holding them back right now. When he plays — unbelievable. Did he go to the Pro Bowl?

J.P.: Yeah, yeah.

Hovan: So he went to the Pro Bowl so maybe that is his excuse. "Oh, he went to the Pro Bowl, we'll let him be." He is so immature.

J.P.: Let's be honest: If he were Torrie Cox he'd be gone by now.

Hovan: He'd be gone. And Torrie, I mean he needed 20 stitches on his nose. It was embarrassing. I could see the bone in Torrie's nose.

J.P.: Eeewww. Well, it's a freaking helmet, man. You use that as a weapon, you can kill somebody.

Hovan: Exactly. Is that how you are going to fight, really? Is that how you are going to fight? If I am going to fight with you, you are going to bring a helmet? I'm going to bring two fists. And all of a sudden he needs to bring a helmet into it? I really think Aqib is immature. I don't feel for the way he plays, these off the field incidents are going to get him off. I really feel it is going to get him in the end and it is going to get Bucs management in the end. And in the end if they release him, they are going to say, "Well, it didn't really pan out." Well, that's because, how many times do you have to get arrested and have to hit somebody?

J.P.: Well, right now I think they just want to get something for him. They have an asset. He is one of the best corners in the game. If he gets through his legal troubles, at least they will be able to trade him.

Hovan: Well, if you trade him send him up to New England. If you are not going to rectify the situation, if you don't want to step in, I know Bill Belichick has the cajones to step in and do something about it because it doesn't seem like Coach Morris is going to do anything. Mark Dominik is going to give you some blanch story. saying, "Oh, it's OK. We have him under control. We have him in anger management classes. "No, that's not enough. You need to suspend this individual and take his money and that is how he will start listening.

J.P.: Well, the league is probably going to do that in any case and Roger Goodell is certainly going to come down on him hard on this latest incident. I think. We'll see.
Now to be fair, it has been widely reported that Talib's intended target when he wielded his helmet during a Bucs preseason practice was Donald Penn, not Cox. It was just unfortunate Cox's face got in the way of Talib's swing during the commotion.
Joe was taken aback with Hovan's frustration with Talib, bordering on anger. Hovan made it perfectly clear that Talib should be jettisoned from One Buc Palace the moment the new CBA is signed.
The way Hovan sounded, it is as if he was about to wash his hands of anything to do with the Bucs he was so disgusted.
Now Joe is not trying to stir up anything and Joe just wonders if Hovan isn't partially still upset with Dominik and Morris for not bringing him back for the 2010 season. Hey, for all Joe knows Hovan was speaking purely from his heart — it sure sounded like it.
If Hovan brings the hammer to the table like this in future episodes of J.P.'s show, and rails like this at what he perceives as an injustice, Hovan may very well have a future in radio somewhere. Click the arrow below to listen to the interview for yourself.
[Audio courtesy of WQYK-AM 1010. Hat tip to Bryan Drake.]
Audio clip: Adobe Flash Player (version 9 or above) is required to play this audio clip. Download the latest version here. You also need to have JavaScript enabled in your browser.