Benn Ready To Hit The Field
April 21st, 2011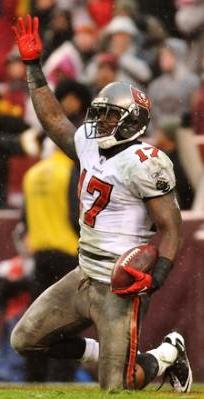 NFL Draft guru Justin "The Commish" Pawlowski isn't just a premier draft researcher and analyst, the guy's got contacts. It doesn't hurt that he works for the Buccaneers' flagship station.
The Commish will air two draft specials next week, Tuesday and Wednesday from 7 p.m. to 7:30 p.m. on WDAE-AM 620. Each will feature a cozy pre-recorded sit down with Mark Dominik. On Tuesday, you'll hear Dominik talk offense and the draft. And on Wednesday it's defense. (If you want reminders, follow The Commish on Twitter or Facebook.)
Joe already has heard the Dominik interview and has been given permission to share a small nugget of great news for Bucs fans. Arrelious Benn has all but made a miraculous recovery from his torn ACL against the Lions on Dec. 19.
"You shouldn't be [concerned about Arrelious], and I appreciate the question. Actually, I was just talking to Todd Toriscelli our trainer, and he was talking about how well Arrelious has rehabbed from it and how he could technically go on the football field almost today only four months post op," Dominik said.
This is stunning news. It had been reported several weeks ago that Benn was progressing well, but ready for football already? Wow.
Benn is known as a workout warrior, and it sure helps to be just 22 years old, but that's a staggering recovery from an ACL. Four months!
Joe imagines the Bucs would tread very lightly and carefully with Benn if he were invovled in the team's workout program and rehabbing under team supervision. Joe wonders whether Benn will progress more aggressively and faster in the coming months, as he's on his own during the lockout.