Will Fellow NFL Players Overlook Buccaneers?
March 28th, 2011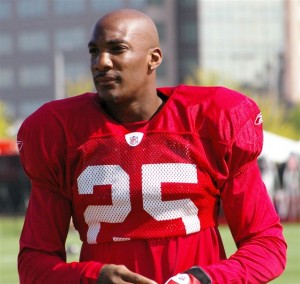 If you don't have NFL Network by now, Joe doesn't know what to say. You really might have to put an asterisk on your man club membership card. It's really that simple. Their programming is phenomenal.
Just break the grip already from the demon cable company that is ok with denying you joy.
Coming on April 30 on NFL Network, per SI.com scribe Peter King, the network will air a series counting down the top 100 players of today, as voted by current NFL players.
NFL Films is counting the last of its estimated 400 ballots from current players, who have been asked since January to name their top 20 current players in the league. Films is tabulating the results on a 20-19-18 etc., basis, and will start the countdown from 100 to 91 after the draft finishes airing on NFL Network on Saturday night, April 30. That show will re-air Sunday night, and the 10 successive countdown shows will run through early July.

This much we know:

• Quarterbacks will be the third-most common players on the show, which is sort of surprising.

• No kickers or punters in the top 100.

• It's a 5-5 defense-offense split in the top 10.

• There are two 2010 rookies, including Ndamukong Suh, among the top 100.

• And unlike the historical show, on which people from all walks of life introduced the players, this will have only current players and coaches introducing their own players, teammates and foes. You'll see Rex Ryan on Darrelle Revis, for instance, and Terrell Owens on Champ Bailey, and Bill Belichick on Jerod Mayo.
Aside from this series being awesome entertainment (if it's anything like the top-100 in history series), it'll be very interesting to see where the Bucs stack up among their peers.
Is LeGarrette Blount the second rookie in the top 100? Does Aqib Talib get any love, and more love than Ronde Barber? Do the players think Donald Penn is the best left tackle in the NFL? Does Josh Freeman make the cut?
Joe's counting on some very telling surprises. And Joe's already got a friendly wager, albeit small, on Blount making the cut.