Aqib Talib "Person Of Interest" In Shooting
March 28th, 2011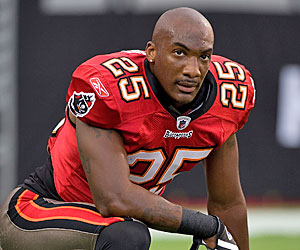 Bucs cornerback Aqib Talib is named by police in Texas as a "person of interest" in a shooting.
Per the Dallas Observer, Talib was involved in an ugly domestic incident last week.
After a March 21 altercation involving his sister, his mother, his sister's boyfriend, two guns and at least five shots fired, former local high school football star and Tampa Bay Buccaneers' cornerback Aqib Talib is a "person of interest" on a Garland Police Department incident report and, pending an investigation, could be arrested and charged with anything from discharging a firearm within a municipality (class A misdemeanor) to aggravated assault with a deadly weapon (second-degree felony).

According to a GPD initial report about the incident and two sources familiar with the case Talib allegedly attempted to pistol-whip his sister Saran's boyfriend, Shannon Billings, and then, after a struggle, used his mother Okolo's pistol and fired several shots at Billings as he fled the scene on foot.

"The investigation is ongoing," Garland Police Department administration supervisor Captain Patrick McCulley told the Observer on Friday. "But I can confirm that Mr. Talib is a person of interest in the case."
Joe hates to say it but something like this coming from Talib isn't exactly shocking. Surprising, but not shocking.
Looks as though the Bucs will find out first hand if Roger Goodell can actually enforce his player conduct policy during a lockout as he claims he can.
Per the police report via the Dallas Observer, it paints a disturbing image.
According to the report, Billings said Aqib produced a handgun and "attempted to strike him in the face." During the ensuing skirmish Talib dropped the gun and Billings picked it up and began runnning, prompting Okolo to produce a gun and fire three shots toward him. Billings told police that Talib then took Okolo's gun, said "I'll shoot him" and fired at least two shots before Billings safely ducked into nearby woods. Neighborhood witnesses corroborated Billings' story.