HBO Stalking The Bucs?
March 21st, 2011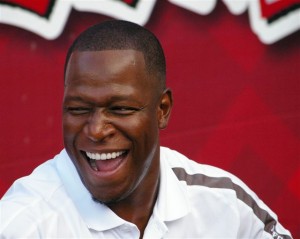 In a story unrelated to a hair stylist, Disney NFC South blogger Pat Yasinskas claims the Bucs are on the short list to be the next team featured on the HBO football reality show Hard Knocks.
And Yasinskas seems to think this could be a good thing for the Bucs organization, so he wrote on ESPN.com.
That, of course, comes only if there is a labor agreement and teams go to training camp in July or August. But the Bucs have been involved in talks, although no deal has been finalized.

This would make plenty of sense for the Bucs. They're a team that struggled with attendance last season. Not a single game sold out at Raymond James Stadium and segments of the team's fan base have not been positive about ownership.
As owner of the most popular Bucs-only website on planet earth, Joe would love nothing better than to see a profanity-laced, behind-the-scenes reality look at the team.
What freakin' theater.
Raheem eating fruit and sharing core beliefs. Donald Penn bitching about weigh-ins. Aqib Talib squawking in his funny voice about his swag and life lessons learned in anger management.  The film room giggles of Barrett Ruud getting steamrolled by no-name running backs. Eric Yarber vibing on camera. … Oh, Joe would have great fun.
But Joe the fan yearing for a Super Bowl title doesn't want to see the Bucs on the show.
The potential for team chemistry to be ripped apart is way too great. Spin it however you want, football teams are too big and fragmented for Hard Knocks not to cause disruption.