Arron Sears Wanted Beer, Cigars In Hospital
March 9th, 2011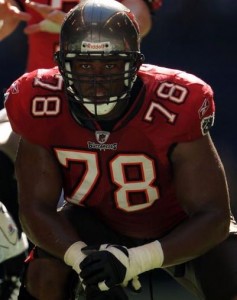 The disturbing story of Arron Sears continues to rear its ugly head.
Sears, a former stud left guard for the Bucs, suffers from some demons so bad, that he can't stay employed in the NFL. In recent months, Sears has had a number of run-ins with the law. Good guy Stephen Holder of the St. Petersburg Times was able to obtain some court records that paint a very troubling picture about Sears.
In one case, he insinuated he was going to set off an explosive device in a hospital unless he had beer and cigars delivered to him.
About four hours later, Sears was returned to the hospital under the Baker Act after a Hillsborough deputy found him sitting in his truck "zoned out," the report said. At the hospital, Sears became belligerent and continually attempted to leave his room despite his mother's pleas and attempts to restrain him.

At one point, Battaglia wrote, Sears left the room and "demanded a beer and a black and mild (cigar). We informed the subject he could not have those in the hospital. The subject's facial expression became aggressive and he stated, 'You better get it or this place is going to blow.' "

Later, officers said, Sears shoved a nurse about 5 feet (the nurse didn't press charges). Battaglia confronted him. Sears pushed Battaglia out of the way and left the room again. Sears then pushed his mother aside and ran, the report said. Battaglia subdued him with a Taser.
It's a very sad and detailed story that no one seems to have an answer for. Holder left the door open that perhaps a head injury could have been the trigger for Sears' troubles.
In short, Sears needs to be institutionalized so he and doctors can get a handle on things. Sears has already demonstrated a violent side. Until doctors can find out what is truly wrong with him and get this under control, Joe fears Sears could do something very terrible.