Gerald McCoy Apologizes?
March 9th, 2011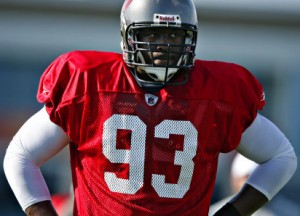 Maybe realizing his words could have offended those indirectly paying his salary, Bucs defensive tackle took to Twitter to set things straight after word leaked about what GMC said to Rivals.com about Tampa Bay locals.
@GK_McCoy I want to say thanx to all the Buc nation who have supported me throughout this tough process of working to get back from my injury. Bucs fans!! Greatest fans in the NFL!!! Love you guys!! Thanx!!
Props to GMC. Hey, look, none of us are perfect. We all make mistakes. Joe gives a nod of approval to GMC for recognizing that he may have blindsided those who want nothing more that to wrap their arms around the guy — figuratively, of course — and see him rack up double-digit sacks.
Oh, and a playoff berth would be nice too.