Tiki-To-Bucs Talk Is Asinine
March 9th, 2011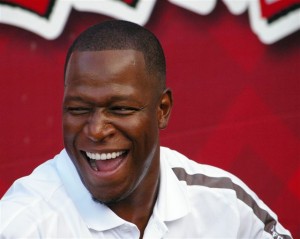 Joe's been enjoying all the reaction to Raheem Morris politely answering a reporter questioning him yesterday about bringing philanderer running back Tiki Barber to the Bucs.
If Joe's sees another take about what a great mentor to LeGarrette Blount that Barber would be, Joe's going to vomit.
Obviously, Cadillac Williams and Earnest Graham did a phenomenal job with that — and they don't carry any of Barber's baggage.
About considering Barber, Morris ripped off a tactful yet flimsy maybe to Rick Stroud, of the St. Pete Times. Here's an excerpt:
"You know me, we always discuss those guys who can help us. Obviously, we haven't been going in that direction and coming off the layoff and all that stuff and where it's going to go, where our young football team is, I don't know if we have the ability to do that. I'm sure he can help someone, if not us, if it ever came to that."
Translation: I'd talk about it over some fruit. But this team doesn't bring in ancient players who've been couchbound for the last four years. We don't go there. That's not in our core beliefs. Maybe if LeGarrette got hit by a bus. 
Raheem went on to say he considers any player that could help the Bucs, which for Joe was a welcome break from Raheem and Mark Dominik's typical public comments that refer to any big name free agent as Satan himself.
Tiki Barber was a phenomenal running back , but the Bucs don't need his old, sucked-up-to-Meridith-Vieira ass to carry the rock.
You're going to take carries from one of the best young running backs in the game to feed Tiki's ego and hope he can pull off a miracle comeback? Joe would sooner see the Bucs sign a real free agent, like a guy in his prime that can stuff the run or has a pile of sacks in his resume.
Back to Cadillac Williams, Joe can't express enough how revered he is in the Bucs locker room. His drive and success to return healthy from multiple injuries is legendary, and he was extremely effective during the second half of the 2010 season.
Not paying that guy and bringing in camera-loving Tiki would teach the young Bucs an ugly, demoralizing lesson in stupidity.