Aqib Talib Case Should Clear Up Soon
March 29th, 2011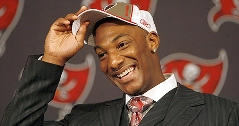 In some ways, it's noble for a guy to go all Sonny Corleone on a skunk who has roughed up his sister.
But it's not smart in any sense of the word for a guy on thin ice with a highly-paid, promising NFL career on the line to perhaps urinate it away by pistol whipping said skunk and then trying to gun him down as he ran from the scene… allegedly.
Whether Texas police turn the other cheek or authorities decided to bring Talib up on charges will be known shortly, so reports Rick Stroud of the St. Petersburg Times.
"I will confirm he is a person of interest," Garland police spokesman Joe Harn told the St. Petersburg Times Monday. "This is still an open case. Once the detectives have decided, probably later this week, if there are charges that need to be brought against him or not, because of the high-profile interest in this case, we'll have an announcement."

Talib, who was suspended one game last season for assaulting a St. Petersburg cab driver in 2009, could face further sanctions from the NFL from his involvement in the incident.
It will be interesting to see if Talib wiggles off the hook on this one. Joe is of the opinion this may never have happened if there wasn't a lockout. Talib very well could have been at One Buc Palace working out, far from the trouble in Texas where he is doing a bad imitation of Captain America.