Packers Fans Still Peeved At Warren Sapp
February 2nd, 2011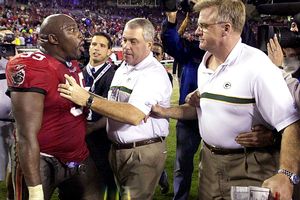 Joe used to be a season ticket holder. One particular game Joe will never forget, even through the fog of multiple beers through a tailgate party and a Bucs game.
It was a late Sunday afternoon. Darkness enveloped the CITS like ice in Dallas. The Bucs took a late lead against the Packers. It appeared Brett Favre was on the verge of another comeback for the men in cheddar and green.
But no! The Bucs got a turnover. Chad Clifton, like a lazy right wing in the NHL, waddled down the field despite the fact he was now a defender, not an offensive lineman.
Bucs great defensive tackle Warren Sapp knew this. Now instead of a defensive tackle, he was an offensive tackle, Sapp totally wiped out Clifton with a crushing block, breaking Clifton's pelvis.
Though Joe never, ever wants to see a player get hurt, Joe was absolutely geeked about Sapp's block. It was smart football. It was physical football. It was football the way it was meant to be played. It was glorious.
After the game, then-Packers coach Mike Sherman confronted Sapp believing the hit was dirty and the two nearly came to blows.
At Super Bowl Media Day Tuesday, Sapp, now an analyst for the greatest channel on television, the NFL Network, which is wired in every real man's home, was confronted by Packers reporters about the Clifton incident and Sapp lashed out, so writes Rob Demovsky of the Green Bay Gazette.
"That's a very long time ago, man," Sapp said. "Jerry Rice, I was the only person who tackled Jerry Rice and got him off the field for the first time in his life. It doesn't come with the same vile as Chad Clifton. I'm trying to figure out why. In the trenches we play a different game. We play a game that none of you are familiar with. We do things to each other that only linemen do to each other. He needed his head on a swivel, he understands that now.

"I made him a household name and $42 million, what's the problem here? I still don't understand. You wouldn't know who Chad Clifton was if it weren't for me, but now I'm so vile that I put on a block on the guy. Really? C'mon. Stop it."
Exactly!
Joe thought at the time that Sherman was horribly out of line in confronting Sapp and Joe thinks it's out of line to pester Sapp about this play.
The play was perfectly legal. Even if James Harrison made the hit NFL warden commissioner Roger Goodell couldn't have fined him because there was nothing remotely close to helmet-to-helmet contact.
Yes, it was a shame Clifton got hurt. But damnit, this is football! If Clay Matthews made the same kind of play, Joe would stand and offer a golf clap.