Bucs Hired Warren Sapp's Old Coach
February 8th, 2011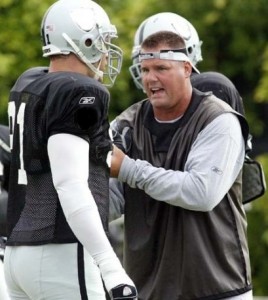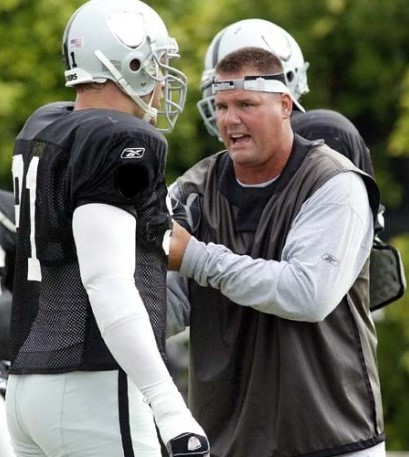 As many of you may know by now — Joe was in meetings and away from a computer with other work and Joe-related duties — the Bucs hired a pair of defensive line coaches.
First is Keith Millard, a former first round pick of the Minnesota Vikings who the past seven years has been a defensive line coach for the Broncos and Raiders. When with the Raiders, he was Warren Sapp's position coach.
Here is a snippet of his bio courtesy of the Bucs:
While with the Raiders, Millard helped Derrick Burgess to two Pro Bowls, including his 2005 season in which he led the NFL in sacks with 16. In 2007, Millard coached two defensive linemen who ranked among the AFC's top-10 in sacks (Burgess and Chris Clemons). Millard also helped the Raiders rank third in the NFL in total defense and first against the pass in 2006 while coaching Warren Sapp, who led all defensive tackles in sacks with 10.

As a member of the Broncos coaching staff, he helped the team to two top-five finishes in total defense (2002 and 2004) and also coached a pass rush unit that finished fourth in the NFL in sacks by a defensive line in 2004, as they were the only team to have three players with at least 8.5 sacks (Bertrand Berry, Trevor Pryce and Reggie Hayward).
Obviously, since the pass rush for the Bucs last season was, at times, slightly less than woeful, the key hire here is Millard.
Below is a training video that Millard put together. Two things jump out: Millard reacts with glee to a camper using an illegal head slap. That's cool! The not-so-cool element is seems the guys rushing are popping up too quick which basically surrenders leverage to an offensive lineman.
On Millard's website, he has the following nugget that piqued Joe's interest:
Keith's reputation has always been in successfully developing players who have the athleticism and the potential, but don't fully understand or put into action the most effective concepts and techniques.
The Bucs have wanted a teacher, an instructor as an assistant coach and per this video, they may have found one on the defensive front.
The second coach the Bucs hired is Grady Stretz from Arizona State. Below is a piece of his bio, again courtesy of the Bucs.
Stretz, who will specialize in the running game, comes to Tampa Bay after spending the previous five seasons as the Defensive Line coach at Arizona State University. This past season, he helped the Sun Devils rank 16th nationally and first in the Pacific-10 in rush defense (119.7 ypg) and eighth nationally and second in the Pacific-10 in tackles for loss, averaging 7.4 a game.
Hopefully he can help Roy Miller develop but the strange thing in this hire is, why would a guy leave a college gig for an NFL gig when there's very likely going to be a work stoppage and perhaps no season? College coaches are guaranteed work.
Or maybe Dennis Erickson really is in hot water in Tempe?